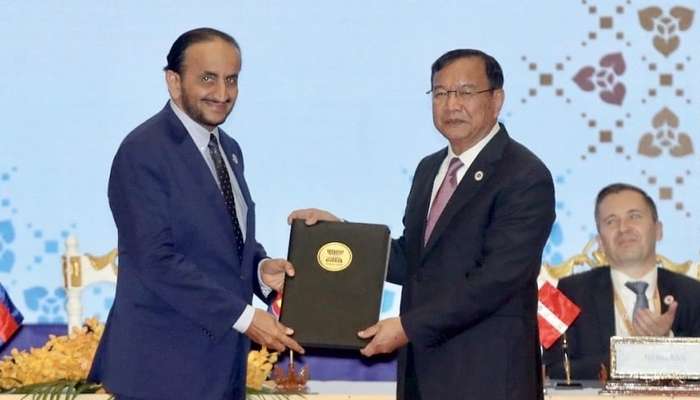 "Oman a friend to all" signs a new friendship treaty;
Oman's endeavors to consolidate bonds of cooperation and strengthen strategic partnerships with brotherly and friendly countries continue, including the signing of the Treaty of Friendship and Cooperation in Southeast Asia, which was signed yesterday by His Excellency Sheikh Khalifa bin Ali bin Issa Al Harthy, Undersecretary of the Ministry of Foreign Affairs for Diplomatic Affairs, on the sidelines of The Association of Southeast Asian Nations (ASEAN) Foreign Ministers' Meeting held in the Cambodian capital Phnom Penh
For those who ask about the details of this treaty, it is a peace treaty between Southeast Asian countries established by the founding members of the Association of Southeast Asian Nations (ASEAN), a geopolitical and economic organization of 10 countries located in Southeast Asia.
Leaders of the core members of ASEAN signed the treaty on February 24, 1976 AD. Other members joined it, and on December 15, 1987, the treaty was amended under a protocol to open the document for the accession of countries outside Southeast Asia, and it was also amended. Again on July 25, 1998, to include acquisition made from outside ASEAN members on the approval of all significant member states. Finally, on July 23, 2001, the parties set the rules of procedure for the treaty's Supreme Council.
The treaty sets conditions for members to be guided by, including mutual respect for independence, sovereignty, equality, territorial integrity and the national identity of all states, the right of each state to lead its national existence without external interference, sabotage or coercion, non-interference in each other's internal affairs, and the settlement of disputes or disputes by means peaceful, renunciation of the threat or use of force, and practical cooperation among states.