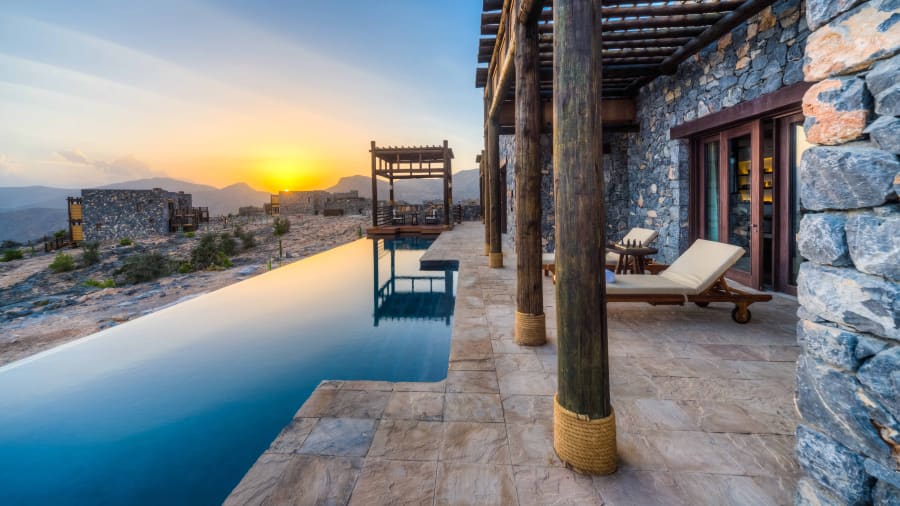 12 Practical Tips to Know Before Visiting Oman
1. Oman is a Hot Country
Oman is a sunny country during almost all its seasons, even in the winter. Temperatures vary between 25 C (77 Fahrenheit) and 17 C (63 F) in the winter, to 40 C (104 F) and 30 C (86 F) in the summer. Nevertheless, the weather on mountains like Al Akthar Mountains is colder than the surrounding areas during the day, but even more in the night.
Muscat is humid and hot during the day, and sometimes at night as well, because it is a coastal city. Salalah, on the other hand, has unique weather during the summer months, which makes it rainy and pleasant. While it gets very hot in most cities of Oman in the summer, Salalah gets its monsoon season, which fills the city with rain and fresh air. Depending on the time you will be visiting Oman, it is important to check the temperatures and the type of weather where you will be staying.
2. Be Mindful of the Conservative Nature of the Omani Culture
Omani men wear a dishdasha, which is a long piece of white or colourful cloth that covers them entirely, and a kummah, which is the Omani traditional cap. Sometimes, they wear shorts that reach their knees and t-shirts. As for women, they usually wear a black abaya and a scarf that covers their heads. They also wear colourful dresses with uniquely decorated textiles, and matching scarves. Omanis are always conservative and dress decently. Although it is not expected from visitors to wear the same traditional Omani clothes, they must make sure they dress conservatively and don't show much skin.
3. Decide on the places you want to visit
It is true that every city in Oman has charming architectural and natural beauty. Nevertheless, each one is distinguished with its unique attractions and various must-see sites. Each region offers its own celebrations and festivals on different months around the year. Moreover, weather differs from one city to the other during different seasons. That's why visitors must decide on the places they want to visit in Oman, and the best timings to go there.
The city of Muscat, for example, has an annual festival in which there are selling booths of Omani and international products, folklore dances and theatrical performances, stands for traditional Omani food and drink, races and competitions, and a fun-fair. The Muscat Festival usually takes place during January and February that attracts visitors from all over the world. So, it is a good idea to plan a holiday during this time, to enjoy the festival as well as other attractions like mosques, museums, parks and beaches, which are open year-round. As for Salalah, it is located in the southern part of Oman. During almost the whole year, the city is nothing but a big hot desert. Nevertheless, starting in July and until September of every year, the city turns into big green heaven due to the monsoon season. Locals call it Khareef Salalah, which means Monsoon of Salalah and dedicate a special festival to enjoy this natural beauty and rain, which attracts visitors from different parts of the globe.
4. Money in Oman
The local currency in Oman is the Omani Rial, which equals 1,000 basis, which is another smaller currency.
One Omani Rial equals 2.60 US dollars. It also equals 2.27 euros and 2.0 GBP. In Oman, the paper notes are 100 baisas, 500 baisas (which is a 1/2 Rial), 1 Omani Rial, 5 Omani Rials, 10 Omani Rials, 20 Omani Rials and 50 Omani Rials. As for coins, they are 5 baisas, 10 baisas and 50 baisas. Tipping is not customary in Oman, but visitors can do so if they would like to appreciate good service.
5. Language in Oman
Arabic is the official language in Oman. However, people also speak English. As Oman is a melting pot of cultures that combines Arabs, Hindi people, Pakistanis and others, other languages are also widely spoken like Hindi, Swahili and Baluchi.
6. Food and Drinks
The Omani cuisine usually consists of traditional bread, rice, beef, chicken or fish, special tomato or Omani sauces and various types of salads. Omanis usually drink kahwa (traditional coffee with cardamon) with dates and halwa (Omani dessert), and sometimes they drink red tea. Nevertheless, there are options for vegans, vegetarians and other types of cuisines at local and international restaurants around Oman. Restaurants and coffee shops serve fresh juices and soft drinks. However, alcohol can only be found in international hotels and bought through a license that is issued by the police department in the city.
7. Electricity Plugs and Internet
In Oman, the plugs are a type G 200V to 240 V. Adapters are available at hotels and at different supermarkets around Oman.
8. Oman is a Safe Country
Oman is one of the safest countries around the world. Not only for the great efforts of the police but also the great and kind hearts of the Omani people. They always care for their country and its visitors and provide them with the warmest welcome even when they are complete strangers. According to the Global Terrorism Index, Oman is one of the few terrorism-free countries in the world. So, visitors don't need to bring weapons or to be worried about safety. If anything wrong happens, they can go and talk to the police.
9. Oman is the Perfect Destination for All Adventure Travelers
Oman is full of natural attractions that facilitate all kind of activities and adventures. Visitors can go hiking, rock-climbing and camping in Oman's mountains, especially Al Hajar Mountains in northern Oman. They can go diving, snorkelling, or take a ride on a boat in Oman's different seas and charming beaches. They can also go dune-boarding and camping in Al Wahiba Sands in northeastern Oman, or in Al-Rub Al Khali (The Empty Quarter) desert in southern Oman. With all its wadis, mountains, beaches, seas, oasis and deserts, visitors can never have enough time to do all the exciting nature activities.
10. Omanis Welcome Everyone with Dates and Coffee
Palm trees can be seen everywhere in Oman. People have their own palm tree farms, and they are planted alongside every road. Dates are served as an essential part of the Omani hospitality along with their traditional coffee, which is called Kahwa. Omanis are very friendly and always welcome people to their houses and their food, even strangers. It is important to know that they love to welcome people to their country and to make them feel at home. They also give visitors bags of dates and sometimes desserts when they are leaving. As hospitality is a dear part of the Omani culture and personality, it is polite and respectful to accept the invitation.
11. Smell of Frankincense is Everywhere in Oman
Oman is famous for the frankincense trees, which they export to different countries around the world. It is known for its high quality and unique fragrance. Omanis homes are always filled with the scent of the frankincense as it is burnt in every room of the house. That's why sometimes walking in the streets, you will smell the frankincense.
12. People are too kind and welcoming:
Don't be surprised if you get invited to their homes or tables. You will most likely be offered to be taken in tours and shall gain Omani friends all the way.